What is NASH?
NASH is a severe liver disease which affects 6-8% of adults in Western industrialised nations such as the USA or countries in Europe and is on the rise in many more regions around the globe. Children are also increasingly diagnosed with NASH.
Patients develop NASH as a consequence of their lifestyle, diet and exercise. Alongside diabetes and obesity NASH is one of the major metabolic disorders of our time. While diabetes can be managed quite well with medication there is no approved medication for NASH, despite the fact that in its most severe form NASH can lead to liver cirrhosis, which requires liver transplantation, or liver cancer. The only option available to patients today are modification of their lifestyle, a healthier diet and increased exercise. Some patients who do not also have diabetes may receive high doses of Vitamin E. The disorders mentioned above cannot be viewed in isolation. For example 56-69% of diabetic patients also have NASH and 37-50% have fibrosis of the liver which eventually can lead to liver cirrhosis. More information on the disease can be found at the panNASH website created by key opinion leaders in the field.
A number of experimental treatments for NASH are being tested in clinical trials. Out of those treatments stands out lanifibranor, an α,δ,γ-PPAR agonist which, due to its mechanism of action, addresses the entire spectrum of NASH liver histology: inflammation, steatosis, ballooning, and importantly fibrosis. The aspect of treating fibrosis is crucial as NASH patients with severe fibrosis are of increased risk of disease progression*. Lanifibranor is currently being tested in a phase IIb trial called NATIVE.
The figure below illustrates the effect of the three isoforms on key aspects of the disease.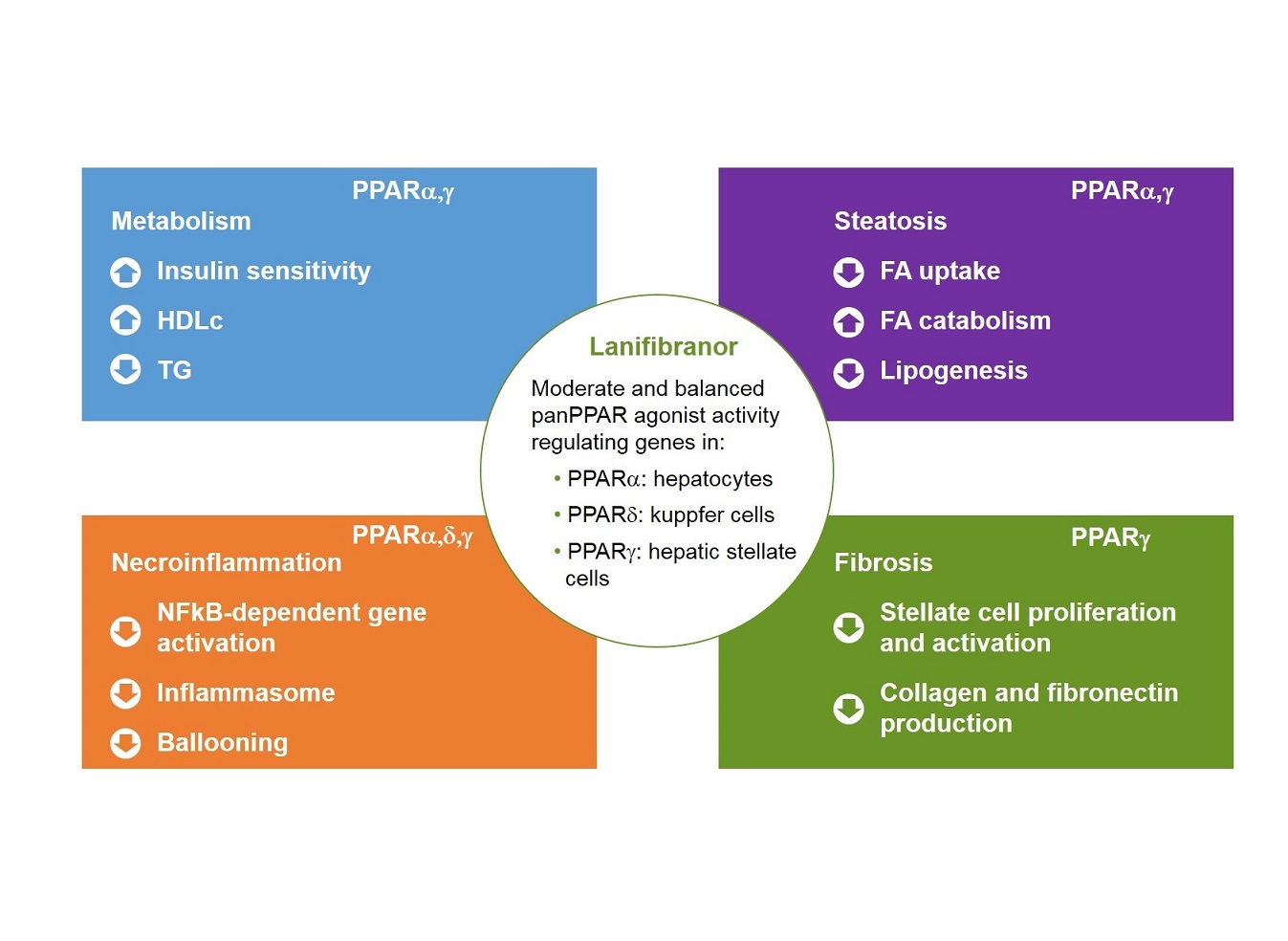 How is NASH diagnosed?
The American Association for The Study of Liver Diseases (AASLD) practice guidelines* recommend to test patients who are at risk to have NASH. Those patients typically have diabetes, obesity, cardiovascular disease and carry additional risk factors such as age or ethnicity. Because patients' liver enzymes are normal in 60% of NASH patients it is required to perform a liver biopsy to properly diagnose NASH. Currently there are no non-invasive tests available to make a reliable diagnosis.
What is a liver biopsy?
A liver biopsy is a procedure performed in hospital or outpatient centres under local anaesthetic. The entire procedure takes a few minutes and is in general regarded as very safe. A small incision will be made on the upper abdomen and a fine needle inserted into the liver to remove a small amount of liver tissue. The patient will take a couple of hours to recover after the procedure and then be allowed to go home. The liver sample is then analysed in a laboratory to look for changes to the appearance of the tissue indicating the presence or absence of NASH. The specialists will look for steatosis, inflammation, liver cell injury, fibrosis, and architectural remodelling which will provide information regarding the stage and severity of the disease.
* American Association for The Study of Liver Diseases practice guideline